Welcome!
Rose Prince Pilgrimage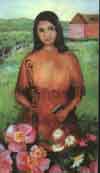 All are invited to the Annual Rose Prince Pilgrimage to be held July 4-6, 2014 at the Lejac Pilgrimage site. Fr. Garry LaBoucane, OMI will be the guest speaker. The weekend begins with an opening prayer at 7 p.m. Friday and concludes with lunch at 1 p.m. on Sunday. Along with presentations by Fr. Garry, there will be prayer services, Stations of the Cross, a Healing Mass, the Living Rosary and a Candlelight Procession. Bishop Stephen Jensen will preside at Mass on Sunday. For more information contact Father Vincent James, OMI at St. Andrew's Parish, Fraser Lake (250)699-6593. Click here to see the Rose Prince Schedule.
St. Joseph's Parish, Smithers, Celebrating 100 years!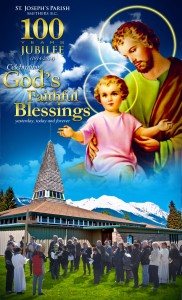 Celebrating God's Faithful Blessings
yesterday, today and forever
Fr. Rector and the Anniversary Committee from St. Joseph's Parish, Smithers invite all from our diocesan faith community to come and celebrate their 100 Years Jubilee.  All are welcome to attend a jubilee event, to celebrate Mass or to visit at any time. For more information and to see the schedule of events, click on Smithers 100 Years Jubilee.