Welcome!
GIVE US TIME
When the Supreme Court struck down Canada's assisted suicide law, it gave Parliament one year to replace it. One year is not enough time to draft effective legislation especially in an election year.  Join the GIVE US TIME postcard campaign to urge the Federal government to invoke the Notwithstanding Clause so Parliament can draft effective legislation.
Click here to read more about the GIVE US TIME campaign.
Dr. Margaret Somerville,  Founding Director of the Centre for Medicine, Ethics and Law of McGill University recently wrote a letter to federal Minister of Justice the Honourable Peter MacKay regarding the recent ruling of the Supreme Court of Canada on assisted suicide and euthanasia. She requests more time so that a Royal Commission can be established to enquire fully into this issue.  Click here to read Dr. Somerville's letter.
DYC 2015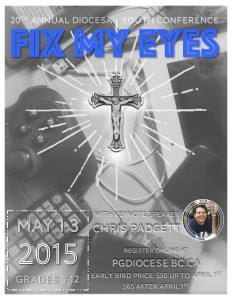 Mark your calendars! The 20th Annual Diocesan Youth Conference will be held the weekend of May 1-3, 2015 at the Diocesan Pastoral Centre, Prince George. DYC is open to all youth from Grades 7 to 12.  Chris Padgett is this year's keynote speaker.  Online registration is now available. Head to the Youth and Young Adult ministry page for details.