Welcome!
HOLY WEEK/EASTER SEASON

The Episcopal Commission for Doctrine of the Canadian Conference of Catholic Bishops together with the approval of the Permanent Council has issued the reflection, "Jesus and Salvation".  Although its subtitle refers to a "Lenten reflection", the release of this text is well timed for reading and meditation during Holy Week and throughout the Easter Season.  Please click on the link below to view the document.
Jesus and Salvation A Lenten Reflection
Jesus and Salvation: A Lenten Reflection, copyright (c) Concacan Inc., 2014. All rights reserved. Reproduced with the permission of the Canadian Conference of Catholic Bishops. www.cccb.ca.
To find a Holy Week Mass or Service in the Diocese, please click Holy Week Services 2014.
Whatsoever You Do: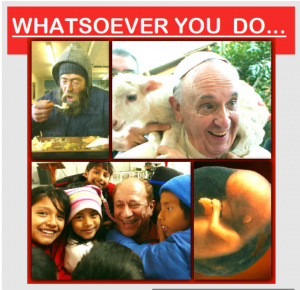 A Diocesan Summit is being held on April 26, 2014 from 9 am to noon in conjunction with the Diocesan Youth Conference for all involved in efforts to defend life and promote the development of every person. The title of the half-day event is "Whatsoever you do…" – a reference to Our Lord's parable in Matthew 25 about the need to see each person as His brother or sister. The purpose of this gathering is an opportunity for various groups, ministries, and individuals involved in Social Justice, International and Local Development, and Pro-Life to be inspired, network, and grow together as a Diocesan family of faith. There will be an inspiring interactive presentation, and a time for networking and discussion. There is no cost. All are welcome!
St. Joseph's Parish, Smithers, Celebrating 100 years!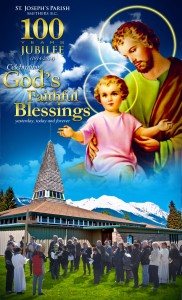 Celebrating God's Faithful Blessings
yesterday, today and forever
Fr. Rector and the Anniversary Committee from St. Joseph's Parish, Smithers invite all from our diocesan faith community to come and celebrate their 100 Years Jubilee.  All are welcome to attend a jubilee event, to celebrate Mass or to visit at any time. For more information and to see the schedule of events, click on Smithers 100 Years Jubilee.