Welcome!
Let your voice be heard!
The Government of Canada is seeking the public's input on the criminal law's response to adult prostitution (i.e. the sale and purchase of sexual services from persons 18 years of age or older). This online consultation is open from February 17 to March 17, 2014. For further information on the government survey, please see the Diocesan Link:  Public Consultation on Prostitution-Related Offenses
Another way to let your voice be heard is to write a letter directly to your Member of Parliament. The Catholic Women's League of Canada's Resolution 2012.01  on The Criminalization of the Purchasing of Sexual Services asks members to contact the federal government to strongly enforce the criminalization of the purchase of sexual services. For further information on this resolution, please see the CWL Link: Resolution 2012.01.
In support of this resolution, St. Mary's CWL, Prince George is hosting a letter writing blitz on Tuesday, March 11 at 3:30 pm and at 7:00 pm in the Conference room (use the Freeman Street Entrance). Two important issues will be addressed: Health Canada will be urged to keep the lethal abortion pill RU-486 out of Canada and for the issue of prostitution, the Canadian government will be encouraged to implement the Nordic model which prosecutes the BUYERS of sex and not the prostitutes.   All are invited to attend either session to give their voice to these important issues. Paper, envelopes and samples of letters will be available.
St. Joseph's Parish, Smithers, Celebrating 100 years!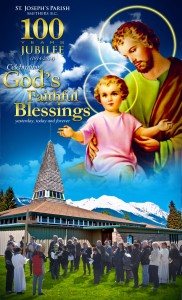 Celebrating God's Faithful Blessings
yesterday, today and forever
Fr. Rector and the Anniversary Committee from St. Joseph's Parish, Smithers invite all from our diocesan faith community to come and celebrate their 100 Years Jubilee.  All are welcome to attend a jubilee event, to celebrate Mass or to visit at any time. For more information and to see the schedule of events, click on Smithers 100 Years Jubilee.