Welcome!
Lenten Prayer and Penance for Life
The recent Supreme Court decision that struck down the law preventing doctors from helping their patients commit suicide is another dark chapter in the spread of the "culture of death", to use St. John Paul's vivid expression. The false argument claiming this as a compassionate way to treat the dying is the ultimate disrespect of people at the end of life. The dying need care, not killing.
We have an opportunity to build a culture of life by asking our political leaders to ensure appropriate palliative care for all who need it. To support this initiative, I invite everyone to use the coming season of Lent to implore God's mercy on our nation and its civil leaders in this cause.
When the apostles felt powerless in the face of evil, Our Lord told them: "This kind cannot be driven out by anything but prayer and fasting" (Mk. 9:29). Let us use the means of prayer and fasting (as we are capable) to ask the Lord to deliver us from the evils that threaten life at its most vulnerable stages.
Bishop Stephen Jensen
MARRIAGE PREPARATION WEEKEND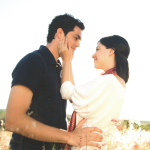 Engaged couples are invited to participate in a marriage preparation weekend to be held Saturday, March 21 and Sunday, March 22, 2015, 9:00 am to 5 pm daily at the Diocesan Pastoral Centre, Prince George. The weekend will be an interactive experience which explores the role of faith, communication, and intimacy, equipping couples with the tools needed to build a joy-filled marriage. The program will meet the requirements of marriage preparation in our diocese. Cost is $135 per couple which includes the seminar workbook and materials, two lunches, and refreshments. To register and for further information: email Norman Hebert at nhebert@pgdiocese.bc.ca or phone Norman Hebert or Teresa Phillippe at 250-964-4424 in the Office of Evangelization & Catechesis.
DYC 2015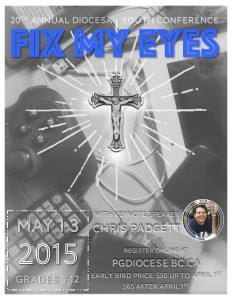 Mark your calendars! The 20th Annual Diocesan Youth Conference will be held the weekend of May 1-3, 2015 at the Diocesan Pastoral Centre, Prince George. DYC is open to all youth from Grades 7 to 12.  Chris Padgett is this year's keynote speaker.  Online registration is now available. Head to the Youth and Young Adult ministry page for details.