Welcome!
DYC – CATCHING FIRE THIS WEEKEND!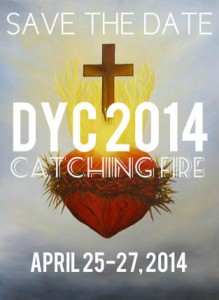 The 19th Annual Diocesan Youth Conference is happening this weekend April 25-27!
Keynote Speaker, Ken Yasinski is the founder of FacetoFace Ministries. He has become one of Canada's most sought after Catholic speakers giving over 150 presentations a year. Through his gift of communicating, his audience is captivated by the love of Christ and His Church. Ken has spoken for conferences, rallies, parish missions, schools, and retreats to youth and adults across Canada and internationally. At the core of every message Ken challenges people to realize their full potential in life – to become a saint!
DYC is open to all youth grades 7-12. Registration is $50 for a 3-day packed weekend of fun, inspiring talks, awesome praise & worship, and time with new friends. Don't miss out! Register today! To register and see the schedule of events, check out the DYC page at: DYC 2014
WHATSOEVER YOU DO: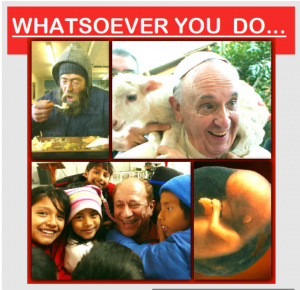 A Diocesan Summit is being held on April 26, 2014 from 9 am to noon in conjunction with the Diocesan Youth Conference for all involved in efforts to defend life and promote the development of every person. The title of the half-day event is "Whatsoever you do…" – a reference to Our Lord's parable in Matthew 25 about the need to see each person as His brother or sister. The purpose of this gathering is an opportunity for various groups, ministries, and individuals involved in Social Justice, International and Local Development, and Pro-Life to be inspired, network, and grow together as a Diocesan family of faith. There will be an inspiring interactive presentation, and a time for networking and discussion. There is no cost. All are welcome!
St. Joseph's Parish, Smithers, Celebrating 100 years!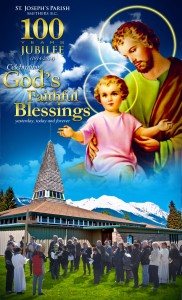 Celebrating God's Faithful Blessings
yesterday, today and forever
Fr. Rector and the Anniversary Committee from St. Joseph's Parish, Smithers invite all from our diocesan faith community to come and celebrate their 100 Years Jubilee.  All are welcome to attend a jubilee event, to celebrate Mass or to visit at any time. For more information and to see the schedule of events, click on Smithers 100 Years Jubilee.