Bishop Emeritus Gerald Wiesner, O.M.I.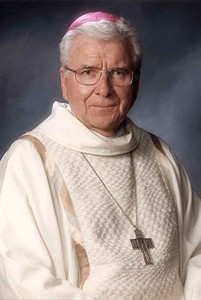 Bishop Gerald Wiesner, O.M.I., was born in Macklin, Saskatchewan, in 1937 and was ordained to the ministerial priesthood as an Oblate of Mary Immaculate on February 23, 1963. He was ordained to the episcopate on February 22, 1993 as bishop of the Diocese of Prince George, BC.
Bishop Wiesner holds a Licentiate in Theology from Saint Paul University in Ottawa. He did post-graduate studies at the University of Ottawa, Catholic University in Washington, D.C., University of Notre Dame in Indiana, Saint John's University in Minnesota, the University of Santa Clara in California and the University of San Francisco.
From 1964 to 1972 Bishop Wiesner was a professor of Theology at St. Charles Scholasticate in Battleford, Saskatchewan. During that time he was involved in formation work in the Oblate Community, which he continued when the Oblate Scholasticate moved to Edmonton, Alberta in 1972. From 1972 to 1984 and again from 1991 to 1992 Bishop Wiesner taught theology at Newman Theological College. In 1992 he served briefly as Acting President of the college until his appointment as Bishop of the Diocese of Prince George.
While teaching at Newman College Bishop Wiesner also assisted at Our Lady of Perpetual Help Parish in Sherwood Park, St. John the Evangelist Parish on Edmonton's west side and at St. Charles Parish in the north end of the city. In the late 1970s he was instrumental in starting the Rite of Christian Initiation of Adults (RCIA) in the Edmonton Archdiocese and as well as teaching courses on the RCIA at Newman College he gave dozens of workshops on the process across Western Canada.
In 1984 Bishop Wiesner moved to Saskatoon to serve as Provincial Superior of the Oblates of St. Mary's Province until 1990. While there he was an influential member of the committee to establish a Lay Formation program in the Saskatoon Diocese.
Soon after arriving in Prince George the newly ordained bishop established a Lay Formation Program. This opportunity for adult faith formation has been well received; 10 groups in the diocese have completed the two-year program. Along side the Lay Formation Program, workshops, study days, retreats and renewal initiatives held in parishes and regions in the diocese give witness to Bishop Wiesner's commitment to adult faith formation.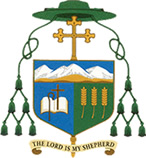 Bishop Wiesner has held a number of positions at the Canadian Conference of Catholic Bishops including membership on the Episcopal Commission for Theology from 1993-1995 and Episcopal Commission for Liturgy from 1997-1998 and 2002-present (as president). In 1995 he became a member of the Executive and the Permanent Council with responsibility as Co-Treasurer from 1995-1997 and Vice-President from 1997-1999. In November 1997 he was a Canadian delegate to the Synod of Bishops for America in Rome and in October 1999 the bishops of Canada elected him President of the Conference for a two-year term.
While administrative and pastoral needs in the Diocese of Prince George are a priority, Bishop Wiesner continues to be invited to give workshops and retreats across Canada.
Hubert Patrick O'Connor, O.M.I. (1986–1991)

John Fergus O'Grady, O.M.I. (1955–1986)

Anthony Jordan, O.M.I. (1945–1955)

Emile-Marie Bunoz, O.M.I. (1944–1945)