For bookings or further information call 964-4475 or email
drc@pgdiocese.bc.ca
Centre Facilities
The Renewal Centre is comprised of the Domano Chapel and four attractive houses – a peaceful setting for educational and retreat experiences. Wholesome delicious meals are served buffet-style to groups. For individuals making a private retreat, cooking facilities are available. All of our guest facilities are warm, clean and comfortable.
The Domano Renewal Centre is situated on several acres of land, and is a peaceful oasis not far from a residential and commercial area.
The Centre is an ideal setting for one-day meetings that can include continental breakfast, lunch or dinner for groups of 15 or more.
Overnight accommodations in our comfortable houses are available for longer meetings, conferences and retreat experiences.
Lodging and Meeting Rooms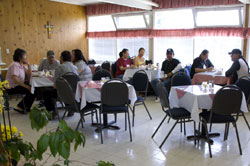 Bethany House accomodates the administration, conference size kitchen and dining room for up to 44 people, a reading room and a counseling room.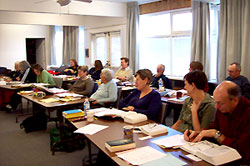 Emmaus House has eight single rooms, two double rooms, kitchen, laundry facilities, a large conference room for up to 20 at tables and 30-40 with chairs in a semi-circle.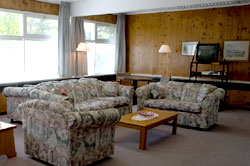 Nazareth House has eight single rooms and two double rooms, kitchen, laundry facilities, dining area and living/ meeting room space.
Galilee House has limited space as an over flow building.
The Chapel is available for quiet prayer, meditation, and liturgies.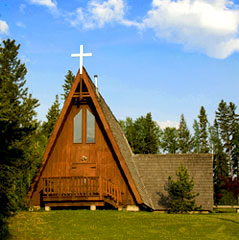 The environment at the Centre creates a beautiful oasis away from the bustling world environment.
It was a time for being alone with God on my journey.  It is comforting to know that in the midst of a busy life there is this opportunity.
The respectfulness of the participants to the mood and tempo of the day allowed me to just "be".